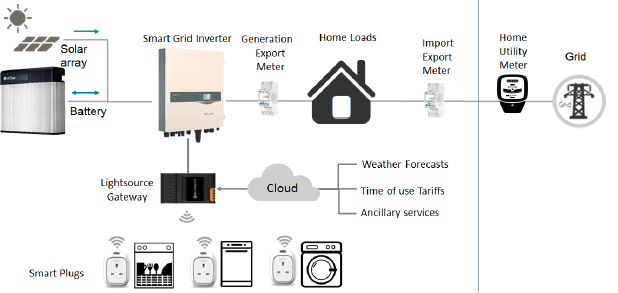 ---
Lightsource Labs from Ireland provide solar energy production, storage and distribution services. They operate an integrated platform (SIDE/Smartly Integrated Distributed Energy platform) as well as a number of digital services such as helping secure the electrical grid and reducing the cost of electricity. Their SIDE platform constitutes a smart software-hardware solution optimised for Grid-2-Home/Home-2-Grid distributed generation system. To do so, the platform incorporates a bundle of components such as :
Range of web apps for the end user (SIDE UIs)
Enable users to see real-time power flow between the solar system, battery and the household grid.
SIDE Gateway
Intermediate device between internal devices (sensors, smart meters, etc.) and the SIDE Platform which created data values from date control and collection.
SIDE Virtual Power Plant (VPP)
Cloud infrastructure and software platform which operates a smart grid network of distributed assets interconnected securely via the SIDE Gateway.
SIDE CRM
Bespoke back-office CRM application for the automation of the entire business process.
SIDE IoT Platform and SIDE Panel
Abstract software framework (SIDE IoT) and Electrical panel (SIDE Panel) designed to accelerate the system installation process as well as eliminate connectivity errors.
Attacks:
Against back-end SIDE Platform
Gaining unauthenticated remote access to IoT components and other entities to disrupt services and change their date set points or state.
Against IT and communication systems
Used to process sensed data and transmit them to corresponding IT systems.
Pilot Case Study:
The Energy Pilot Case Study took place online via Teams on the 5th April 2022. Click here to view the list of speakers and a recording of the event.